AI Photo Retouching Evoto - Free Masterclass with Heike Delmore
A couple of months ago I created this Masterclass for my coaching students.

It was so life-changing that I knew I needed to share it with all photographers, whether they specialize in personal branding photography or not.

So, get ready to buckle up for this game-changing free AI RETOUCHING MASTERCLASS.

Set aside 30 min for this video. (Press play on video above to start watching.)

This masterclass is a true revelation, surpassing all expectations and delivering the easiest and top-quality AI photo retouching solution I've seen to date.

After rigorous research and testing, I've found this easy solution that will save you time, effort, and frustrations.

No cumbersome plugins and tedious individual edits! With this masterclass, you'll unlock the secret to effortless, lightning-fast, and high-quality retouching like never before.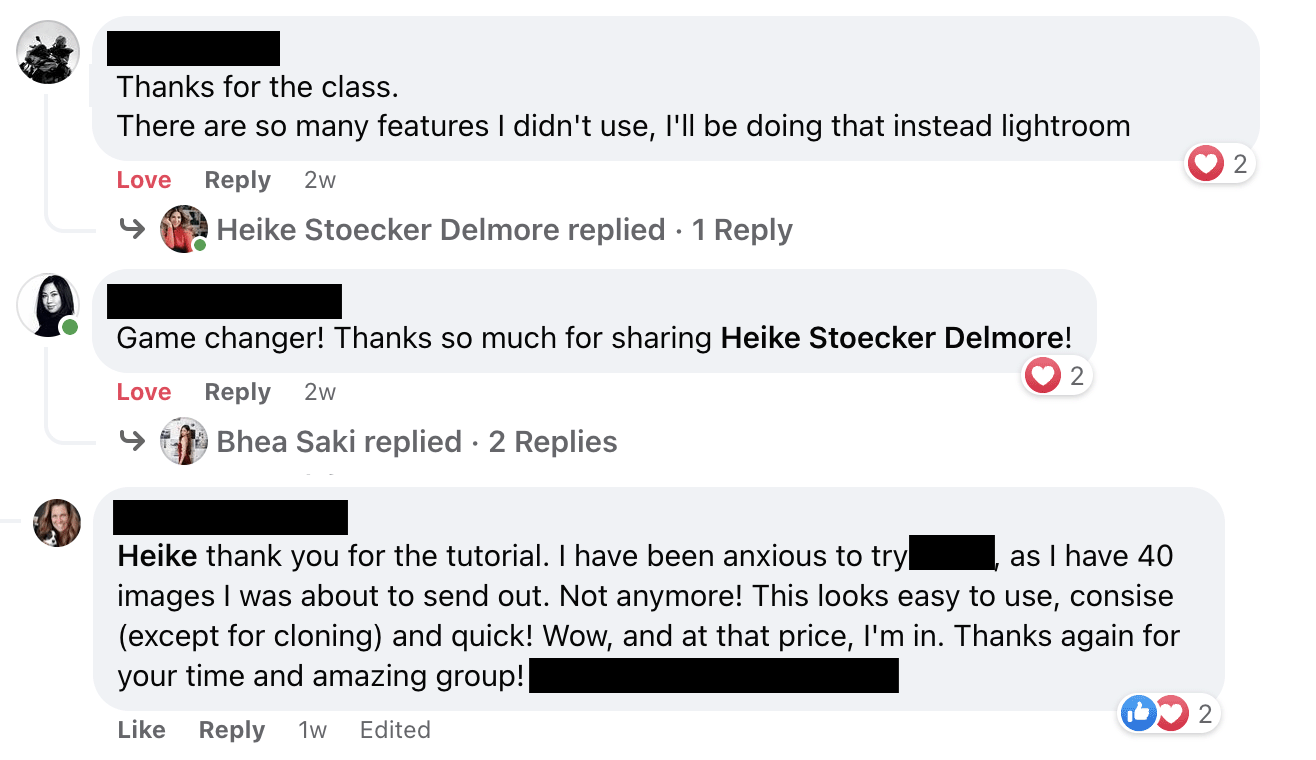 So, grab your favorite latte, a notepad to jot down tips, and get ready to immerse yourself in the next 30 minutes of sheer excitement and knowledge.

Reclaim your time while producing exceptional results that will set you apart from the rest!

Here's to taking your retouching to the next level, your time back all while saving you money!
Warmly,
Heike
---
DIVE DEEPER: Get on the fast track! If you're ready get impressive results in your personal branding photography business so you don't have to rely on shooting weddings, families or babies anymore, I want to invite you to apply for the: Personal Branding Photography Mastermind. (Limited Space)

⭐️This is a 16-week group 1:1 coaching program for photographers who are ready to give 100% to growing their personal branding photography into a profitable and sustainable business.

You need to be someone who is:
- A hobbyist, part-time or full-time photographer who really wants to create results for their clients
- Willing to take action
- Willing to get out not be comfortable for every second of the day
- Coachable (because if you don't take direction, this is going to be hard)
- And someone who truly wants to build a full-time personal branding photography business and sincerely wants to help other people

And if that's not you, it will be hard to help you.
But if it is you ... And you want to learn how to:

- Identify your Ideal Client and create photos and packages that knock their socks off
- Consistently generate leads without ads
- And stop doing small headshot shoots OR losing your weekends to weddings AND evenings to shooting & editing

👉 Learn more about Coaching Mastermind here.
See what previous students who have worked with Heike or her courses have said: Student Reviews